CANADA'S BEST MANAGED COMPANY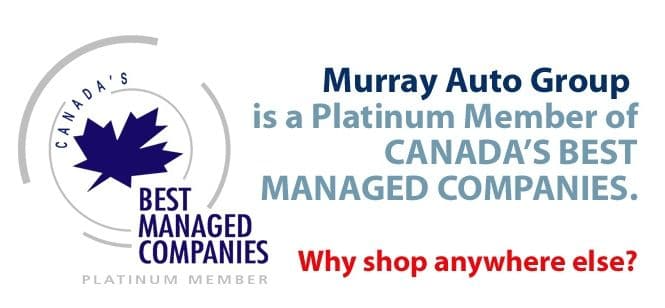 The Murray Automotive Group goes Platinum, again!
After achieving Canada's 50 Best status consecutively, the Group is entering their second year as Platinum members of Canada's 50 Best Managed Companies.
Look for Murray Automotive Group listed in February's edition of the National Post as the multiple Platinum recipient of Canada's 50 Best Managed Companies.
Canada's 50 Best Managed Companies program recognizes organizations setting the highest standards of business performance. Membership to the Platinum club is restricted to the elite corporations who have been recognized for excellence as Canada's 50 Best for a minimum of six consecutive years. The Murray Automotive Group who entered their 8th consecutive year is proud to announce their designation as one of the Best Managed, Platinum edition. This designation symbolizes Canadian corporate success: companies focused on their core vision, creating stakeholder value and excelling in the global economy.
Arthur Fast, CFO of the Murray Automotive Group has the following comments on this year's accomplishments; "I think the 50 Best program is a wonderful way to recognize of some great Canadian businesses. We consider it an honour to be included as a Platinum member of that group. We are pleased that our focus on customer service and employee development has helped us to achieve a measure of success and it is certainly gratifying to be recognized in this way."
A bit of history, the Murray Automotive Group was founded in 1926 and has now established itself as one of Canada's leading automotive groups. Today, the group has twenty locations across Canada, employs over one thousand people and sells over 15,000 vehicles per year. With the group's expansion, the Murray family has remained actively involved in the day to day operations of the business. The group has a well earned reputation for honesty and integrity and "Our Reputation is Your Guarantee" is a guiding principal for everyone in the group.